Ruschieto, Ruschieto single vineyard, data sheet - Valdarno di Sopra doc sangiovese, 2015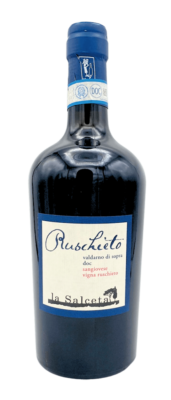 Vineyard: 1 hectare, planted in 2006/7, 5000 vines per hectare, south/south-east facing, clay and shale soil, altitude 310 m asl
Grape variety: sangiovese
Training system: Gujot
Production per hettare: 40 ql.
Acidity: 5.22
pH: 3.6
Non-reducing extract: 26.5
ABV: 13%
Contains sulphites
A well-balanced season with a hand harvest in the first week of October.
Soft destemming without crushing the berries, fermentation in steel vats, both traditional and partly in carbonic fermentation, in a way that allows us to obtain the particular aromas that are part of our Sangiovese project.
Pumping-down daily, délastages initially daily and then thinned out; fermentation takes place at controlled temperatures that remain around 25°C; fermentation and maceration last a period of around 20 days.
Once the wine is devatted and has completed its fermentation, it is transferred to a steel vat where it completes MLF, to achieve its full finesse and expressiveness. The ageing process lasts approximately 24 months, after which the wine is bottled.
Intense ruby colour, with full and juicy aromas of wild berries, elegant floral and officinal hints picked up by the fresh balsamic final note. Palate of excellent taste relaxation, structured but at the same time balanced and with a savoury endowment that accompanies the long and persistent citrus finish, sweet and well-integrated tannins.
500 ml, 750 ml and 1,5 lt