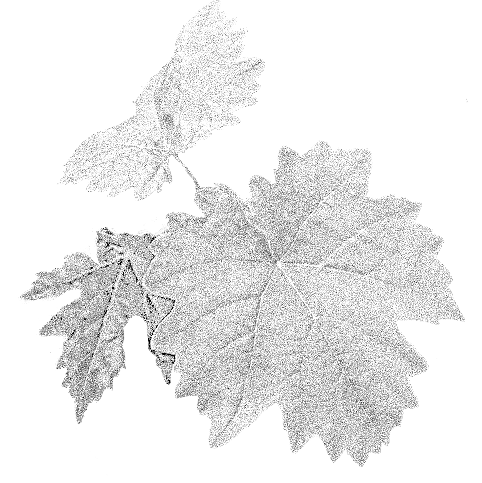 Our wines personify the vibrant charm and complexity of Valdarno di Sopra, displaying the balance and elegance indicative of this unique terroir.
Ruschieto is our red wine made from Sangiovese grapes, solely from the over 25-year-old vineyard that bears its name. Made exclusively in steel, it has a ruby colour with garnet hues, while the nose is intense and broad, with notes of plums, dried flowers and undergrowth, followed by hints of leather and coffee. The palate is full but also fresh, with tannins that are never rough, characterised by a savoury streak that accompanies the persistent finish and ripe fruity tones. The use of the Vinolok glass closure allows us to support and accentuate the note of freshness.
La Nocetta is our red wine made from Sangiovese and Cabernet Franc grapes, in a proportion of 60% Sangiovese and 40% Cabernet Franc. Vinified and aged exclusively in stainless steel, it has an intense ruby colour with a complex, deep and austere bouquet, with hints of blueberry and plum, officinal herbs and notes of underbrush, tobacco and small spices. The taste is composed, elegant and harmonious, fresh and with fine tannins, characterised by great drinkability and a spicy, persistent finish. Characteristics enhanced by the Vinolok glass closure.
Osato is our rosé wine where we wanted to enhance the contribution of Cabernet Franc grapes. Vinified and aged in steel, it has a colour ranging from an intense onion skin pink to a deep pink, as it varies considerably depending on the vintage. The nose is complex and lively, with notes of currants, cherries, hibiscus flowers and hints of eucalyptus and herbs. On the palate it is harmonious, fresh and enveloping, with a savoury streak that sustains the fruity finish. This was the first wine, back in 2011, where we used the Vinolok glass closure.
In many vermouths the base wine plays a neutral role, while the different botanicals or the addition of caramelised sugar are favoured.
For us, it was different. We wanted the base wine of our vermouth to be recognisable and the choice of botanicals to enhance its aroma, taste and freshness.
This is why we chose Osato, our rosé wine, and with the support and professionalism of Distilleria Beccaris in Costigliole d'Asti, we selected the different botanicals, starting with the traditional ones such as wormwood, savory, coriander and elderflower. We then enrich them with infusions of sage, thyme, sweet and bitter orange, pomegranate and cherry. All aromas that belong to our rosé, to the territory of Valdarno di Sopra from which it comes.
Obviously a vermouth that starts from Osato and amplifies its expressiveness could only be called Riosato, our new pink vermouth. Characteristics enhanced by the Vinolok glass closure.